Multimedia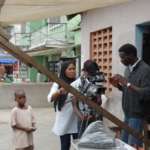 On the journalistic side of my career, I've been around and seen quite a lot.
I have experienced hilarious moments that made me laugh, I have heard stories that made me cry, I have met men of the underworld who sent fear down my spine, I have investigated the injustice of man to their fellow man…
I have seen the good, the bad, the hugely ugly…a shade of everything
Here are some of them produced into video.
---
Hannah Olugbodi is another victim of the alleged brutality meted out by men who claim to be operatives of the Anti-Cultism Squad Gbagada, and I went tracing how the mother of two was shot. I even visited a brothel! 🤐

---
When I received the call that Tmilehin had died, I cried…and my mind went back to the moment I prayed for him while he laid at the University Teaching Hospital in Ibadan, Oyo state.
I had taken the journey to Ibadan to do this video and help save him. 😥
---
Village people at work or just plain stupid? He took to armed robbery 'to help his broke friend' and he chose his own street to operate. So, he wears a face mask!
Still cracks me up…sometimes I try to make these videos simple and straightforward. 😄
---
The story of Josa Arafat is one that validates the saying that impossible is nothing.
Thinking you would never take a ride with a crippled driver? Well, Arafat tells you, "When you see others in the vehicle sitting calmly you would join them.